For the first time in the history of farming, you and other Tule customers will have forecasts of the plant water stress for each block. Your improved Tule dashboard will roll out over the next few weeks and will include:
Water stress forecasts for each block
The isolated influence of water loss and water additions on the daily plant water status
Refined site-specific irrigation recommendations
Our site-specific water stress forecasts are a unique innovation that only Tule can provide. We are building on a foundation of proprietary Actual ET sensors that measure how the plant water status of each block responds to water additions (irrigation and rainfall) and water loss (evapotranspiration). After learning that site-specific relationship, we are able to predict how long until the next irrigation is needed and how much stress relief future irrigations will provide.
Here is a sneak peek of what you will see on the dashboard: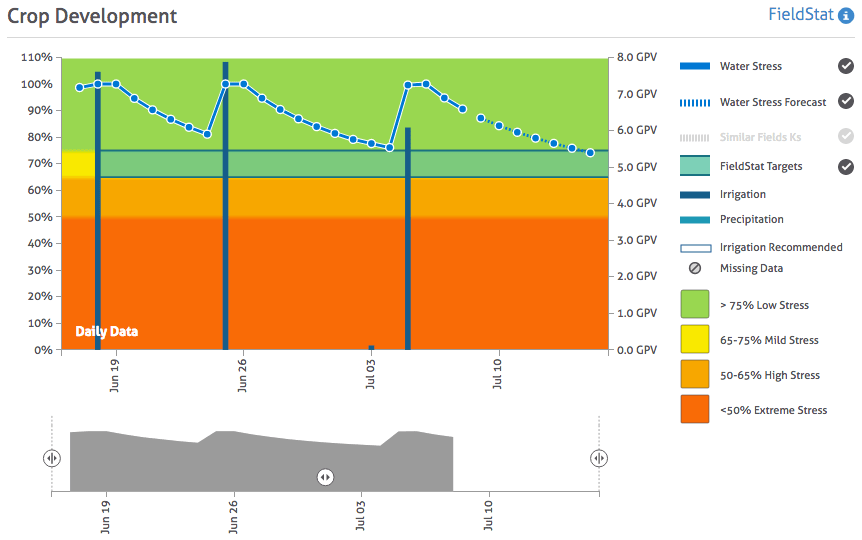 For in-person education and training on this new feature, there will be regional Tule Community events held this week and next. Please review the schedule below and click here to reserve your spot.
7/11 10:00am - 11:30am in Monterey
7/11 3:00pm - 4:30pm in Buellton
7/12 10:00am - 11:30am in Paso Robles
7/13 10:00am - 11:30am in Napa
7/14 10:00am - 11:30am in Lodi
7/19 3:00pm - 4:30pm in Santa Rosa
By default, we will wait to enable the water stress forecasts until July 24th to give you time to learn about how it works. If you would like early access to this feature, you can enable it for all your eligible blocks on your Tule dashboard. If you are an administrator for any Tule blocks, you will see a button that looks like this:

Once the forecast feature is enabled, if for some reason you want to revert to the previous FieldStat, you will have the ability to disable it. When you enable or disable the forecast, all your team members that have access to that Tule sensor will see the change reflected on their dashboards.
A special thanks to Holly Maness, Adrian Cowham, and Alan Wells for their superhuman effort to invent and shepherd in this innovation for the benefit of all our customers.
This feature will be released as a free beta for 2017.
We believe this is one of the most important advancements in irrigation technology. We look forward to seeing how you leverage the forecasts at your farming operation.
Team Tule